Description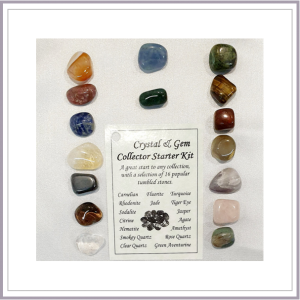 This Kit includes Carnelian, Rhododite, Sodalite, Citrine, Hematite, Smoky Quartz, Clear Quartz, Fluorite, Jade, Turquoise, Tigre Eye, Jasper, Agate, Amethyst, Rose quartz, Green Aventurine.
Carnelian
Gives  energy,  guards against poverty,  It is a stone of creativity, individuality and courage.  It can aid memory, including recall of past lives. It can assist one in finding the right mate. It is also a stone of protection in general and from anger, jealousy and fear. In addition it can help with manifestation of one's desires, and brings good luck. Carnelian can help ease or remove sorrows. It also helps stabilize energies in the home. It is sometimes called the "actor's stone". Carnelian is associated with the root and sacral chakras. Physically, carnelian rejuvenate tissues and cells, rheumatism, kidney stones and other kidney problems, gall stones, colds, pollen allergies, and neuralgia.
Rhodonite
 is a stone of grace and elegance. It decreases anxiety while increasing attention to detail. It works beneficially on the heart chakra, opening one to unconditional love and increased service to mankind. It is also a calming stone. Rhodonite is also a stone of contrasts. The bright pinks indicate energy that enhances passionate love. The shiny black indicates grounding energy. This stone can help one have a passionate love that is also grounded. Physically it has been known to help with emphysema, joint inflammation, light sensitivity, strep throat and heart disorders.
Sodalite
 is a stone of logic, rationality, and efficiency. It is helpful for work in groups and stimulates thought.Is a stone that is good for healing breaches in communication. It is a stone of truth, and brings this to all communications. It is particularly useful for honesty of emotions. It increases intelligence, knowledge and learning, and can unite the logical with the spiritual. Physically it is beneficial for the glands, digestive system, relieving insomnia, and decreasing calcium deficiency. It can also be useful for quicker healing of head colds. Is associated with the throat and brow chakras.
Citrine
  is known as a "success" stone because it is said in folklore to promote success and abundance, especially in business and commerce. Its lore also says that it enhances mental clarity, confidence, happiness and will power. Citrine is purported to bring good fortune, sometimes in very unexpected ways. Citrine is also a good general protection stone according to crystal healing lore. It is said to alleviate depression and self-doubt, and diminish irrational mood swings due to the effect of mental clarity it has. In traditional folklore and crystal healing lore it is said to aid the digestion and eliminate nightmares that disturb one's sleep. It is associated with the solar plexus chakra.
Hematite
  is known as a "stone for the mind". It brings mental organization and is very grounding and calming. It helps with original thinking, logical thinking, and mathematics. It decreases negativity and can help balance the body/mind/spirit. Physically it has been used to keep the body cool, to decrease blood disorders, nervous problems and insomnia, as well as align the spine and mend broken bones. Hematite is associated with the root (base) chakra. During my first trip to the Tucson Rock and Gem Shows, I carried a piece of hematite around in each pocket to help ground me from all the strong crystal energy there. Hematite is good at grounding out excess energy and acting as a stabilizing force.
Smoky quartz
is a grounding and stabilizing stone. It brings calm and centering, lifts depression, enhances practicality, and generally removes negative energies, bringing happiness. Smoky quartz is also a good luck stone. It can also assist in tapping subconscious wisdom. Smoky quartz is a protective stone, particularly for physical protection, protection from negativity, and psychic protection. Physically, smoky quartz is helpful for kidneys, abdomen, pancreas, reproductive organs, menstrual cramps, fertility issues, water retention. Smoky quartz is associated with the root chakra.
Clear Quartz
  Considered by many to be the best all purpose crystal or stone. It is particularly useful for meditation and when working to contact or align with one's higher self.  Receives, transmits, stores and amplifies energy and information.   Absorbs negativity; Gives Strength and Energy. It is an excellent channeller for healing bringing light and goodness into everyday life. Chakras: All
Fluorite
 promotes spiritual and psychic wholeness and development, truth, protection, and peace. It protects psychically and in the physical realm. It helps one meditate and learn to go past the "chatter". It can help get rid of mental blocks and similar mental issues. Physically it helps general health. Good for auric cleansing. Mixed colors bring enhanced protection.
Jade
Strengthens heart, kidneys, immune system. Helps cleanse blood. Increases longevity and fertility. Aids eye disorders and female problems. Powerful emotional balancer. Radiates divine, unconditional love. Clarity, modesty, courage, justice, wisdom. Peaceful and nurturing. Dispels negativity. Healing affinity will correspond to particular color of stone.
Turquoise
  is sacred to both Native American and oriental traditions. It is associated with the sky, and bringing sky energy to earth. It can help promote honest and clear communication from the heart. It is also said to protect against pollution in the environment, and to bring abundance. Turquoise can also help speed the healing process, and is known as a master healer stone. It is very powerful for grounding and protection also.
Tiger Eye
This is a powerful stone that helps you to release fear and anxiety and aids harmony and balance. It stimulates taking action, and helps you to make decisions with discernment and understanding, and unclouded by your emotions. It is a stone of protection that is also very grounding. It enhances integrity, willpower, practicality and correct use of power. It is a stone that enhances good luck, and brings prosperity, often in the form of money. Especially protective during travel. It can also help one see clearly without illusion. Chakras: Solar plexus, sacral, base
Jasper
Jasper is a stone of gentleness and relaxation. It enhances one's ability to relax and brings tranquility, comforting, wholeness, healing, and gentle endings. It is sometimes called the nurturing stone for its nurturing and protective energies. Psychically, jasper is used to assist with astral travel. In the physical realm, jasper is used for the liver, gallbladder, soothing the stomach, and balancing yin/yang energies.
Agate
 enhances creativity and strengthens the intellect, making it a beneficial stone for both students and artists. It is also known as a good luck stone. As a stone of harmony, one of the things agate does is balance yin/yang energy. Agate increases energy. However, because it is a grounding stone, it does not increase energy at all times, but rather enables bursts of energy as needed. In this way, agate is a conservation stone, and enhances longevity.
Aids creative thinking; relieves insomnia; helpful in grief; aids meditation; spiritually uplifting; helps prevent nightmares and create inspiring dreams; calming to anger and impatience; helpful in overcoming addictions.Works on the Brow Chakra.
Amethyst
Aids creative thinking; relieves insomnia; helpful in grief; aids meditation; spiritually uplifting; helps prevent nightmares and create inspiring dreams; calming to anger and impatience; helpful in overcoming addictions.Works on the Brow Chakra.
Rose Quartz
  A Soothing, Calming Stone that dispels Stored Anger, Jealousy, Fear, Grief and resentment. Balancing the emotions and healing emotional wounds, it brings peace and calm.Powerful in times of stress or loss. Its loving nurturing energy takes away fears, resentment and anger and gently replaces them with a feeling of higher self esteem and confidence.also a good stone for love, and to increase self love and feelings of self worth. It brings healing and clarity to the heart and allows the wearer to learn to trust again.  Wear this and open yourself to love.
Aventurine (green)
It reinforces ones decisiveness, amplifies ones leadership qualities, and is a willing participant in instinctive action. Emotional tranquility, positive attitudes towards life, brings one into alignment with their center. Independence, health and well being , heals the heart chakra.