Description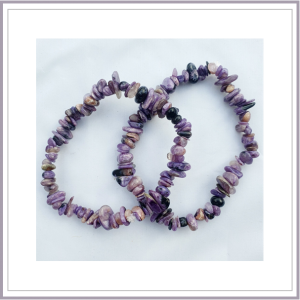 Please note: Colour may differ slightly due to individual screen resolution. Natural gemstones have a variation in colour and each piece is unique.
Please Note:- No refunds or exchanges on any purchases. Please choose carefully.
CHAROITE
Rare Silicate Mineral
Charoite (K(Ca,Na)₂Si₄O₁·H₂O) is a rare silicate mineral, first described in 1978 and named for the Chara River. It has been reported only from the Aldan Shield, Sakha Republic, Siberia, Russia. It is found where a syenite of the Murunskii Massif has intruded into and altered limestone deposits producing a potassium feldspar metasomatite.
Chariote is a stone of transformation. It is the soul stone that overcomes fear. Chariote stimulates inner vision and spiritual insight and aids in coping with enormous change at a spiritual level. To facilitate this, it synthesizes the heart and crown chakras, cleanses the aura and stimulates unconditional love. Chariote encourages vibrational change and links to higher realities. At the same time, it provides deep physical and emotional healing. It helps you to accept the present moment as perfect.
Psychologically it releases deep fears and is particularly useful for overcoming resistance or putting things into perspective. It bestows drive, vigor and spontaneity and is able to reduce stress and worry, bringing about a relaxed attitude. Chariote can be used to overcome compulsions and obsessions. By balancing the crown chakra, it assists in overcoming a sense of alienation or frustration.
Mentally it stimulates perceptive observations and analysis and applies these to facilitate a fast decision. It helps anyone who is driven by other people's thoughts and programs rather than their own.
Spiritually Chariote grounds the spiritual self into everyday reality. It encourages a path of service to humanity. It can bring insightful visions of past lives.
Charoite transmutes negative energy into healing and converts dis-ease into wellness. It reenergises the body when exhausted, heals and integrates dualities And regulates blood pressure. This stone treats the eyes, heart, liver and pancreas. It reverses liver damage due to alcohol, and alleviates cramps, aches and pains. Charoite bestows deep sleep with powerful dreams, overcomes insomnia and gives children calm sleep. It is helpful where dysfunction of the autonomic nervous system is affecting the heart. Charoite heals autism and bipolar disorders.
(As per crystal bible- Judy Hall)
Excellent stone for the 7th chakra(Crown).