Description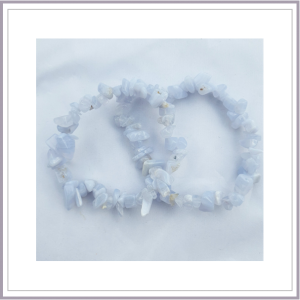 Please note: Colour may differ slightly due to individual screen resolution. Natural gemstones have a variation in colour and each piece is unique.
Please Note:- No refunds or exchanges on any purchases. Please choose carefully.
BLUE LACE AGATE
Is especially suited to people of a gentle nature. Good for the throat; relieving neck and shoulder pain; arthritic conditions; mending broken bones; strengthening nails. It can also be used in the treatment of the pancreas and also aids digestion.
Agate is a common rock formation, consisting of chalcedony and quartz as its primary components, consisting of a wide variety of colors. Agates are primarily formed within volcanic and metamorphic rocks. 
Excellent stone for the 5th (Throat) Chakra, but also 4th (Heart), 6th (Third Eye) and 7th (Crown).
Star sign – Sagittarius November 22 – December 21