Description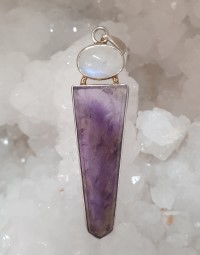 Amethyst and Moonstone Flat point 925 silver pendant
This is the exact piece that you are purchasing.
Please note: Colour may differ slightly due to individual screen resolution. Natural gemstones have a variation in colour and each piece is unique.
Please Note:- No refunds or exchanges on any purchases. Please choose carefully.
Amethyst
An extremely powerful and protective stone with a high vibration. It guards against psychic attack, transmuting the energy into love. A very relaxing, calming stone, great for alleviating stress and anxiety and allowing a restful, rejuvenating sleep. Its serenity enhances higher states of consciousness and mediation. It is used to help overcome addictions and blockages of all kinds. Mentally it helps you feel less scattered and more focused and in control. Amethyst enhances memory and motivation.  It dispels anger, rage, fear, anxiety sadness and grief. One of the most spiritual stones, promoting divine love, selflessness and spiritual wisdom, opening intuition and psychic gifts. Physically it helps with metabolism, strengthening and cleansing the organs and immune system, headaches and tension. It reduces bruising, injuries, treats hearing disorders, the lungs and respiratory tract. Amethyst helps with skin conditions, cellular disorders, digestive tract, and intestines and encourages reabsorption of water.
Chakra's– Crown Chakra and Third Eye Chakra.
Birthstone- For the Month Of February.
Star signs -associated with Amethyst Is Aquarius(Jan 20- Feb18) and Pisces (Feb 19 – March 20).
Rainbow Moonstone
has a gentle, calming energy. It helps to strengthen intuition and psychic perception, and enhances creativity, compassion, endurance and inner confidence. It is a stone that brings balance and harmony. The Rainbow effect brings in a spectrum of light, and can help with clearing and bringing in uplifting energies. It has been said to have the power to grant wishes. Moonstone is a stone of creation and fertility.
Moonstone is the Stone of the Divine Feminine, it connects in with the energies of the moon, the cycles and covers the shifting energies from fertility, preparing the womb for conception, to ease in pregnancy and childbirth. Moonstone also assists with fluid retention which by the end of pregnancy can become an issue.
Rainbow Moonstone assists a person to recall back power that may have been given away to others, intentional or unintentionally. It assists in helping you stand in your divine feminine Power.